NOVA THE STAR EATER is noshing on tasty stars a little beyond our galaxy. But on May 21, 2019, she'll be here! Watch out, SUN!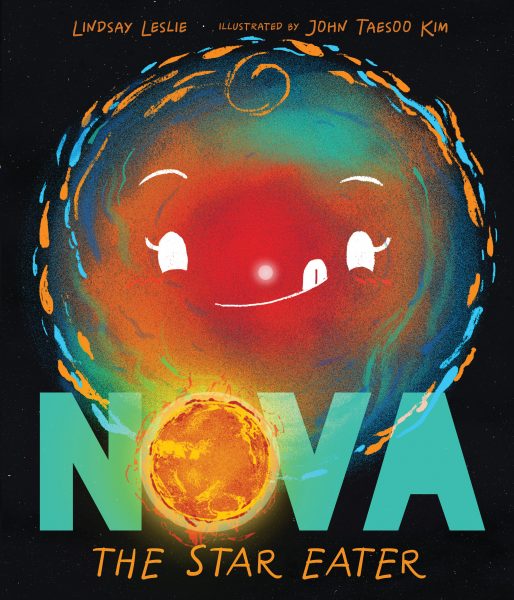 I'm thrilled to have another book coming out with Page Street Kids and beyond-the-stars happy that the super-talented and space-obsessed John Taesoo Kim illustrated it! You'll fall in love with his work.
Now, NOVA THE STAR EATER is what I call my space opera. It's a very absurdist (and gassy) story about Nova who has a big appetite for stars. When she gobbles up Earth's Sun, panic erupts and leaders from around the globe spring to action. Earth needs its Sun to survive, but how will it get it back from Nova? One bright little girl with an off-the-wall idea just might have the solution.
I hope you all have as much fun reading NOVA as I did writing it. I call this picture book my reverse mullet. Think Flock of Seagulls here. It's a party in the front and business in the back with information about the Sun and its importance to the Earth, as well as a glossary of terms. I want to thank Dr. Keely Finkelstein with the Department of Astronomy from my alma mater, The University of Texas at Austin, for offering up her time and fantastic astronomical experience. Hats off to you!
To celebrate the upcoming appearance of NOVA in our solar system, I'm offering up two giveaways!
The first one is for educators and librarians! I'm giving away a signed copy of NOVA THE STAR EATER, plus my debut picture book THIS BOOK IS SPINELESS, plus a free 20-minute Skype visit. The Skype visit can be for next year or the last week of school. Whatever works!
One is for my writing community. Those in the trenches. Those working to be in the trenches. This giveaway offers up a signed copy of the book, plus a picture book critique. I'm a big fan of supporting writers on their journey to being published. I had so much help along the way and will forever pay it back.
Both giveaways end on May 20, 2019, at 11:59 p.m. CST. Thanks for celebrating with me! Shoot for the stars … but don't eat them!
————————
NOVA THE STAR EATER
"An imaginative tale and an informal astronomy lesson rolled into one book."— Kirkus
————————
Terms & Conditions              
Giveaway begins May 14, 2019, at 6 a.m. CST and ends on May 20, 2019, at 11:59 p.m. CST. Winners will be selected randomly via Rafflecopter.com and notified via Twitter or email. Lindsay Leslie reserves the right to publish winner's first name and last initial. Each winner will have 48 hours to respond before a new winner is selected. Lindsay Leslie also reserves the right to choose a different winner in the case that the randomly chosen winner refuses to cooperate with rules, reply to winning email in 48 hour time period or does not have verifiable entries. Lindsay Leslie will ship her book to the winner directly. Please allow 4-6 weeks for delivery of prize, unless otherwise noted. Twitter, Facebook, Pinterest, and Goodreads are in no way associated with this giveaway. By providing your information in this form, you are providing your information to Lindsay Leslie. Lindsay Leslie will not share or sell information and will use any information only for the purpose of contacting the winner. The number of eligible entries received determines the odds of winning. Open to US residents only, ages 18+. No purchase necessary. Void where prohibited by law. If you have any additional questions – feel free to contact Lindsay Leslie at https://lindsayleslie.com/contact/