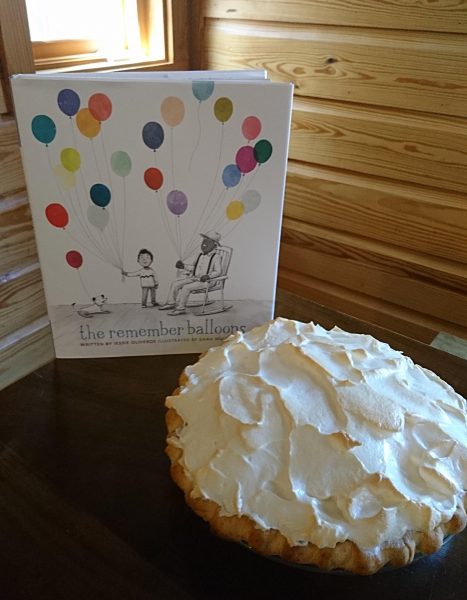 Oh my goodness, I urge you to immediately buy The Remember Balloons or request it at the library or get it for your child's elementary school teacher, what have you.
The Remember Balloons by Jessie Oliveros and smartly illustrated by Dana Wulfekotte will tug at your heart strings and might make that watery stuff fall from your eyeballs. I'm not crying, everybody else is. Okay, yeah, I'm crying. I did when I read it the first time and then I did again when I read it with my sons. Imagine carrying balloons that hold your memories. These are "remember balloons." The main character, a young boy, has a bunch. His baby brother less. His parents a whole room full. His grandfather, a lifetime. The stories in these remember balloons bring together family and share understanding, create bonds, and cement relationships. But at one point, the young boy notices his grandfather losing his grip on the balloons and them floating away. I won't go into the rest of the story, because you need to read it, but I so enjoyed the creative, gentle, and thoughtful approach to such a heavy topic: the losing of our memories or losing our loved ones to what can feel like the darkness of memory loss, whether Alzheimer's, dementia, or simply aging.
Beyond a beautifully written story told from the perspective of the young boy, which makes the book so tender, the illustrations are the perfect complement. The characters are drawn in black and white; the balloons with all the memories are various colors and pop off the page. That's what memories are … the special moments and absolutely deserve the color.
What a special book. Congratulations, Jessie and Dana! So, if this book were a pie, I had to select a special pie. It absolutely had to be chocolate meringue. The reason? This pie holds some of my fondest memories. It's a family recipe. I hope you enjoy it as much as I have over the years. I think it's a keeper.
To-Die-For Chocolate Meringue Pie
CRUST
3 cups King Arthur All-Purpose Flour (Yes, the flour brand matters. Use King Arthur. It's the best.)
1 stick of frozen butter (cut into small slices)
1/2 cup shortening
1 tablespoon sugar
1 tspn of salt
9 tablespoons of ice water
MERINGUE
1 tablespoon cornstarch
2 tablespoons cold water
1/2 cup boiling water
3 egg whites
6 tablespoons sugar
1 teaspoon vanilla
pinch of salt
CHOCOLATE FILLING
1 cup sugar
2/3 cup all-purpose flour
1 teaspoon salt
4 cups milk
4 slightly beaten eggs
2 teaspoons vanilla
3 1-ounce squares unsweetened chocolate (add to milk)
Prepare the crust:
Preheat oven to 475 degrees.
Using a food processor, combine the flour, butter, shortening, sugar and salt. Pulse 10 times. Add 3 tablespoons of water, mix on high for a count of 10. Add 3 more tablespoons of water. Mix on high for a count of 10. Add the last 3 tablespoons of water and mix on high until the dough clumps together. Remove the dough, pat into a loose ball, and wrap in aluminum foil or cling wrap. Place in the refrigerator for 30 minutes.
For one pie crust, take half of the dough (Save the rest for another pie! It freezes well.) and pat into a disk. Place on a lightly floured, smooth surface and add a little flour to the top of the dough, so the rolling pin won't stick. Roll out the dough evenly into a large circle. Roll out the dough so it is larger than the circumference of the pie pan by about an inch. To get the dough in a pie pan, I roll the dough around a floured rolling pin and then unroll it onto the pie pan. Press the dough firmly into the pie pan. I like to tuck the extra inch of dough hanging over the edge of the pie pan under, so I can make a fluted edge.
Prick the crust thoroughly on the bottom and the inside edges with a fork, so the crust doesn't bubble up, or use baking beans or pie weights. Bake at 475 degrees for 10 minutes, until golden brown. Remove and set aside.
Lower the oven to 350 degrees.
Begin preparing the meringue:
Blend cornstarch and cold water in a saucepan. Add boiling water and cook, stirring until clear and thickened. Let stand until COMPLETELY cold.
Prepare the filling:
Mix sugar, flour, salt; slowly stir in milk with chocolate. Cook and stir over medium heat till mixture boils and thickens; cook 2 minutes longer. Stir 1 cup of hot mixture into eggs; stir into remaining hot mixture. Stirring constantly, bring just to boiling. Add vanilla and set aside. Pour chocolate filling into the pre-baked pie shell.
Finish preparing the meringue:
With beater at high speed, beat egg whites until foamy. Gradually add sugar (make sure it is dissolving) and beat until stiff but not dry. Turn mixer to low speed; add salt and vanilla. Gradually beat in cold cornstarch mixture. Turn mixer again to high and beat well. Spread meringue over warm pie filling. Bake for 10 minutes or until top is lightly browned.